Efpalinos Tunnel
Considered by Herodotus as the world's Eighth Wonder, this famous tunnel, was constructed by Efpalinos from Megara, an hydraulics engineer, in the sixth century BC with primitive tools and without measuring instruments.
In fact the tunnel was an aqueduct, bringing water from the spring «Hagiades» (mentioned by Herodotus as the «Big Spring»), where today the small church of Aghios Ioannis (St.John) is located,  to Pythagorio which at that time was the capital of Samos. It was done in a way that it could not be detectable by raiders, who could easily, destroy it and  deprive the city of the most basic resources.
The most significant feature of the construction is that the workers started working from both sides of the mountain Kastri and achieved to meet at the middle, with a tiny deviation.
The intellectual feat of determining the direction of tunneling was equally impressive.
How did Samians do this? No one knows for sure, because no written records exist. When the tunnel was dug, the Greeks had no magnetic compass, no surveying instruments, no topographic maps, nor even much written mathematics at their disposal.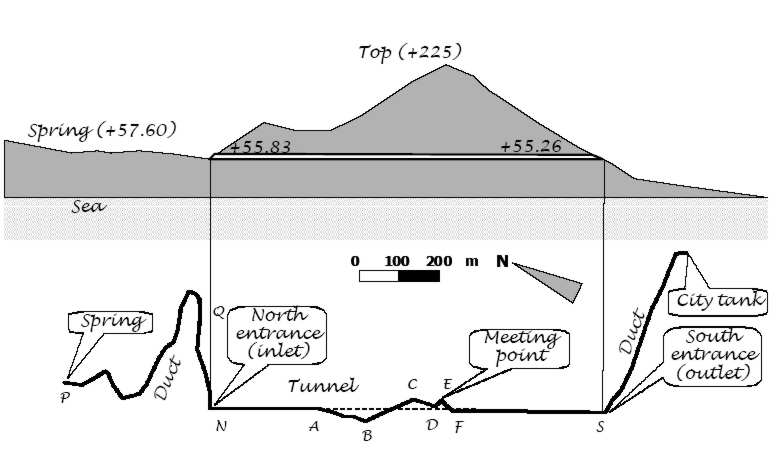 1036m long, with dimensions of 1,80m X 1,80m, the tunnel goes through the mountain Kastron, at an axis North/West-South/East, 170m below the top of the mountain and 55m above the sea level. In its inner part, at a depth of 2-9 m, it is situated the channel carrying the water to the city, through clay tubes.
The Efpalinos aqueduct was used for about a thousand years, as proved from archaeological findings. In 1853 the French archaeologist Victor Guerin began searching for it. He was able to locate the spring and the beginning of the aqueduct but did not discover the tunnel. For the next 30 years people continued to look for it and it wasn't until in 1882 when a monk revealed where the tunnel was. However, due to the difficulty of cleaning the tunnel, it was abandoned and it wasn't until 90 years later in 1971 that the tunnel was finally cleaned and cleared by the German Archaeological Institute of Athens.
 Interior of tunnel                                                                                     South entrance of the tunnel
Today the tunnel is exclusively a tourist attraction and you can walk the first 300m from the south entrance. It's also a wonderful way to enjoy natural coolness on hot days.
Tickets
Full: €4, Reduced: €2
Free admission days
6 March (in memory of Melina Mercouri)
5 June (International Enviroment Day)
18 April (International Monuments Day)
18 May (International Museums Day)
The last weekend of September annually (European Heritage Days)
27 September, International Tourism Day
Sundays in the period between 1 November and 31 March
National Holidays